Here is a Shaheer Ahmed Originals
It has been 25 years of internet in India. On August 15, 1995, Videsh Sanchar Nigam Limited (VSNL) had formally launched the Internet for the Indian public. Internet Timeline
The first dial-up line offered a speed of mere 9.6 kbps and was priced at a Rs 5,000 for 250 hours for individuals, and Rs 15,000 or above for commercial users. Twenty-five years on, India has the world's second-largest internet population and the cheapest data rates.
The highest amount would be paid by service providers for a 128 kbps leased line connection which would cost a whopping Rs 30 lakhs.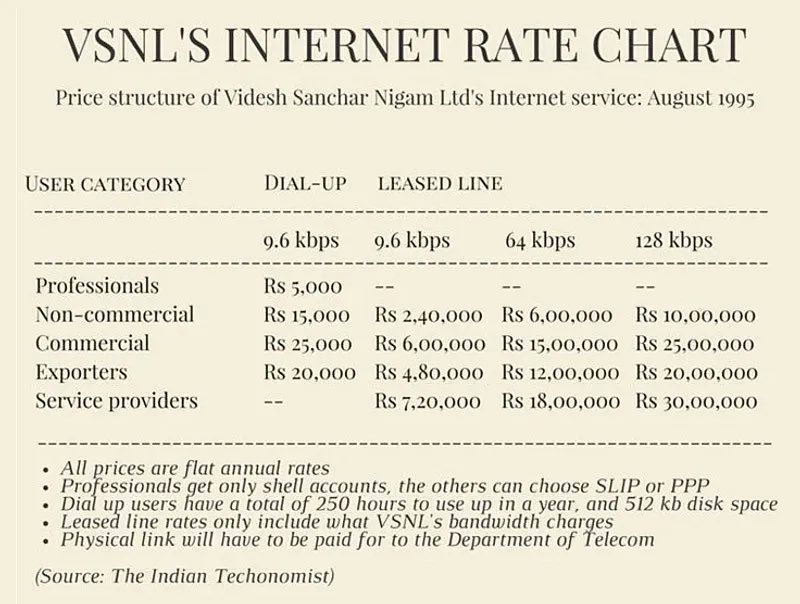 1991: CERN releases the World Wide Web publicly on 6 August.
1995: Videsh Sanchar Nigam Ltd (VSNL) launches India's first full Internet service.
1995: Satyam Infoway is founded.
1996: Ajit Balakrishnan launches
http://Rediff.com
— India's first homegrown web portal.
Feb 1996: VSNL's internet service garners 10,000 subscribers.
March 1996: India's first cyber cafe opens in Mumbai's Leela Hotel.
1997: Sanjeev Bhikchandani launches
http://Naukri.com
.
1998: Satyam Infoway becomes India's first private ISP.
September1999: First Hindi portal WebDunia launches.
September 2000: MSN launches in India.
2000: Avnish Bajaj and Suvir Sujan launch auction site
http://Baazee.com
.
2000: Deep Kalra launches
http://MakeMyTrip.com
.
2000: India's Parliament passes the Information Technology Act. 2000: Rediff lists on Nasdaq.
2001: Indian Railways allows online booking of tickets through
http://Irctc.com
.
2003: Airtel launches broadband services in India. MSN launches IM service (MSN Messenger 6.0) in India, with a web camera integration that lets users talk to each other in real-time.
2004: India approves broadband policy.
2004: eBay buys Baazee for $50 million.
2004: Mark Zuckerberg launches the Facebook website.
2004: Google launches social networking site Orkut.
2005: YouTube is launched.
2005: Orkut launches in India and becomes one of the most-visited sites in no time.
2005: BSNL rolls out India's first broadband services. (Until 2007, it was known as the Data One network).
Mid-2005 India crosses two lakh cyber cafes, which drove the first phase of the internet revolution in the country, according to the Cyber Café Association of India.
2006: Facebook launches in India.
2006: Twitter is launched.
2006: Info Edge (India) Ltd, the parent company of
http://Naukri.com
, files for an IPO.
2007: Sachin Bansal and Binny Bansal start Flipkart.
2007: Yahoo! launches mobile search portal in India.
2007: Google News launches Hindi service.
2008: Google index reaches one trillion URLs.
2008: Apple launches its first iPhone in India, almost a year after its global launch. 2008: Google releases the Chrome Web browser.
2008: Nasa successfully tests the first deep-space communications network modelled on the Internet
2008: India's internet user base crosses 50 million.
2009: First Android smartphone launched in India — HTC Gl. Airtel was the exclusive telecom carrier for the phone.
2010 Facebook overtakes Orkut as India's top social network.
2010: Snapdeal is started as a daily deals platform.
2010: 3G and broadband wireless access spectrum auctioned (in India).
End-2010: Government auctions 3G spectrum
2011: Mobile number portability is launched in India.
2011: India crosses 100 million internet users.
2011: Govt rolls out Bharat Net Project (National Optical Fibre Network), largest rural broadband connectivity project.
2012: Airtel launches India's first-ever 4G network in West Bengal. Services made available in dongles only.
2013: Amazon launches its marketplace in India, books, music, and movies.
2013: India crosses 200 million internet users.
2014: Airtel launches India's first '4G on mobile' services in Bengaluru. (Exclusive to iPhone 5S and 5C)
2014: Facebook cross 100 million users in India
Sept 2016: Reliance launches Jio, a free high-speed mobile internet service across India.
Dec 2016: India's smartphone user base crosses 300 million.
Jan 2017: India beats the US in mobile app market growth, sees most Google Play Store downloads in 2016.
2017: India crosses 450 million internet users.
2018: Yearly app downloads touch 12.3 billion, second only to China.
2017: Jio crosses 100 million subscribers.
2017: India is the second-largest market for Android phones.
2018: JioPhone becomes India's most shipped handset.
Smartphone shipments hit a record 330 million.
2019: India crosses 300 million active social media users.
2020: India's internet consumption grows by 13 percent since the COVID-19 lockdown.
May 2020: Active internet user base crosses 500 million. For the first time, rural users outnumber urban users.
June 2020: Indians used about 12GB data per month per user — the highest consumption globally.
August 2020: Estimated 570 million internet users in India.
The End for now.