Schools reopening in Telangana: Experts suggest classes can begin with precautions
Representative image
HYDERABAD: Staggered reopening of educational institutions, reduced curriculum and blended learning are the way forward for the education sector in Telangana, said panellists during Times NIE Hyderabad's first 'principals' webinar' held on Saturday.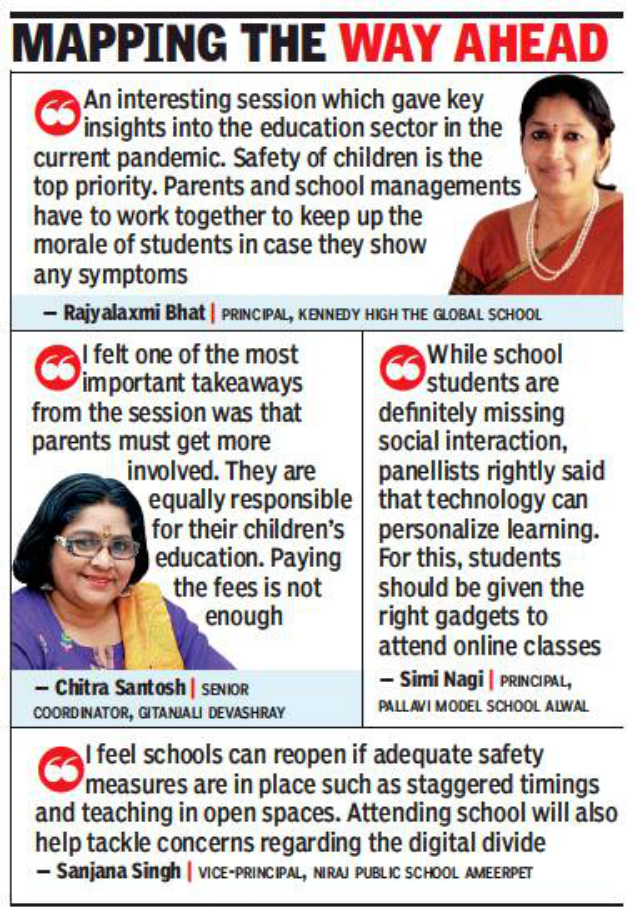 Former Union secretary of health and family welfare, K Sujatha Rao; secretary of Telangana Residential Educational Society RS Praveen Kumar; and commissioner of collegiate and technical education in Telangana Navin Mittal were the panellists on the webinar sponsored by Hindustan Petroleum Corporation Ltd in association with Roots Degree College
Strongly advocating reopening of schools in a staggered manner, K Sujatha, said: "School-going students are less likely to be vulnerable to Covid19 than elderly people. Schools can commence classes, provided they take precautions."
Meanwhile, Kumar gave some key suggestions on reopening of schools. "Teachers with no co-morbidities can start taking classes. We should initially bring in students between class 5 and class 8. The number of students can be reduced to maintain social distancing," he said
Mittal said schools need to adapt to newer ways of teaching. "Curriculum must be integrated with technology. Covid-19 has given government an opportunity to transform with the times," said Mittal.